An honorable member of the Coffee Shop Has Just Posted the Following:
Ten years ago Auckland was an anti-cycling city just as Singapore is today. Who would have believed the transformation in infrastructure, support and attitudes in less than a decade.
Hopefully Singapore will come to its senses one day and go down the same route. The era of the gas guzzling automobile is drawing to and end. It's time for motorists to accept the inevitable.
Cycling in Super City gets better
By
Martin Johnston
5:00 AM
Monday Dec 28, 2015
The Nelson St cycleway is the latest route to be built for city pedallers. Photo / Dean Purcell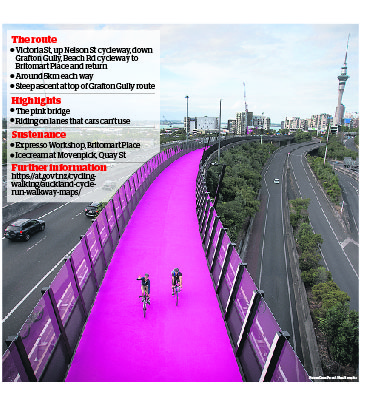 Who would have thought Auckland cycleway users would have had $18 million spent on their needs.
But there it is, a curvaceous, pink motorway bridge-with-a-view as its centrepiece, the new inner-city cycleway from Upper Queen St to Victoria St and on to the waterfront.
Cycling just gets better and better in Auckland. I can ride along on-road cycle lanes, paths shared with pedestrians and cycle-only lanes for most of my 7.5km ride to work from Mt Albert.
If you and your family own bikes, give the new cycleway a go this summer; it will remind you how much fun cycling can be.
And then venture further afield on the Auckland isthmus, where there are plenty of cycle routes for all ages and skill levels.
My daily commute takes me on part of the Northwestern Cycle Route, which runs from Te Atatu to Upper Queen St, although road works closed sections of it temporarily this year.
From there I can choose city streets; the Grafton Gully walkway/cycleway and the protected bike lanes on Beach Rd; or the pink bridge and new Nelson St cycleway.
The Nelson St cycleway, Grafton Gully and the Beach Rd cycle lanes will eventually make a nice city circuit but for now should be considered a return trip unless you are happy biking on city roads.
Many recreational riders like the scenic Tamaki Drive waterfront shared cycle path, but to me it always looks a bit of a dodge among pedestrians and in-line skaters.
Onehunga, too, offers a waterfront gem (with a touch of industry).
If driving, park at the new Taumanu Reserve, the suburb's restored access to the Manukau Harbour, where there is grass, pretty shell-and-sand beaches, rock groynes, picnic tables, toilets and a winding shingle path smooth enough for the skinny tyres of a roadbike. Or you can pedal along the asphalt of Orpheus Drive.
Ride under the motorway bridge and you'll find a wide, concrete path that curves among pohutukawa along the shore of Mangere Inlet, past Waikaraka Cemetery, alongside a container terminal and to Hugo Johnston Drive, outside Mighty River Power's electricity generation plant. You've now ridden 7.2km.
There is a second isthmus option from here. If you can cope with the climb to Hillsborough Rd, take the path beside the Southwestern Motorway - apart from the awkward first section on streets - to Maioro St, a one-way pedal of 6km.
By
Martin Johnston
-
NZ Herald
Copyright ©2015, NZME. Publishing Limited
Click here to view the whole thread at www.sammyboy.com
.